How to Transfer Files with Fetch on Macintosh (SFTP)
You may transfer files securely over the Internet with a Macintosh software package called Fetch. Windows users can transfer files with WS_FTP. Fetch should be used with the Secure File Transfer Protocol (SFTP).

Fetch is available for free download from: ISC's Supported Products Page.
How to Configure Fetch for Secure File Transfer Protocol (SFTP)
The instructions below are for setting up an SFTP connection to your SEAS Home Directory. If you are trying to setup an SFTP connection to another server or machine, you'll need to subsitute the correct hostname and Initial folder.
Once Fetch is installed on your computer, follow the instructions below:
Launch Fetch.
The New Connection dialog box opens. If the New Connection window is not visible, select New Connection... from the File menu.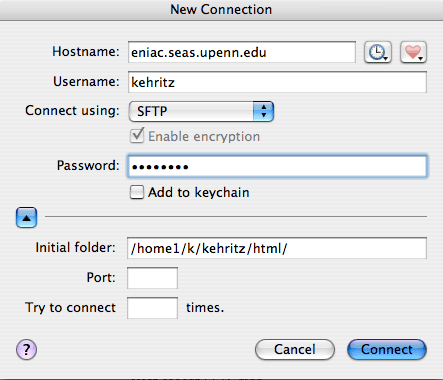 Enter the hostname as eniac.seas.upenn.edu
Enter your SEAS username.
Select SFTP from the Connect Using drop down menu. If the Enable encryption checkbox is not automatically checked, make sure you check it.
Enter your password.
Click on the blue arrow icon to display the advanced options (Initial folder, Port, and Try to Connect X times).
Enter your default remote directory in the Initial folder box. When connecting to your SEAS home directory, users should enter /home1/u/username/ (where u is the first letter of your username and username is your SEAS username).
To save your connection settings so you don't have to enter them each time you open Fetch, click on the heart icon and select Make Shortcut. You will then be able to access the FTP site you just configured from the Shortcuts dropdown menu.
Hit the Connect button.
Once connected you use the "GET" icon to download files to your local computer. You use the "PUT" icon to upload files from your local computer to the host.